Guest Mix & Interview: Vice Beats
Everybody loves J Dilla. But not many take on the challenge to create "reworkings of Dilla's music" to turn them into "new hip-hop and soul compositions." In three months, UK producer

Vice Beats

 will share his Dilla interpretations with the world, dubbed Dilla: The Timeless Tribute. A timeless donut of the heart from a fan first, producer second.
Brand new on our Mixcloud: Vice Beats' guest mix featuring music by his personal "heroes" such as De La Soul, A Tribe Called Quest, Ty, Children of Zeus, Nubiyan Twist and, of course, J Dilla. Accompanying the mix, we caught up with Vice Beats to talk about his upcoming Miguel Atwood-Ferguson-inspired tribute LP. As well as his background in music for those who aren't familiar with Vice Beats yet.
(Photos: Sam Holman)
What do you do for a living? Is it in any way related to the kind of work as a music producer?
I wear a number of hats but my work 100% links to my music, I just can't not do it! My daily work is that I am a media lecturer working with post-16 students and disengaged students for a community interest company (CIC) in Bristol, UK, called boomsatsuma. I love my work; I get to support students to create film, music, graphics, and photography on a daily basis. And sometimes my music even makes an appearance in their projects too. In addition, I'm the Education and Events Manager for Wordplay Magazine.
"Staying overnight in the studio to create tracks, turning the lights off and hiding in the live room when the security guards came round so that we could work all night."
So when did making music come into play?
When I was 12 or 13 my cousin gave me Music, the old PlayStation 1 game, and I learned how to move basic samples around. That developed to using Hip Hop eJay for the PC and then Cool Edit Pro. As a teenager I wrote poetry, and won a national poetry award through Oxford University. This led to me building my skills as an emcee. When I went to University, I met my first proper musical family. Lincoln University had not long installed a brand new music studio, using Cubase.
We spent every moment we could in the studio. Staying overnight in the studio to create tracks, turning the lights off and hiding in the live room when the security guards came round so that we could work all night. I developed a passion and understanding for the production side of hip-hop. Over time, the emceeing reduced after my band collapsed. It was called Genius Collective, an 8-piece live hip-hop/soul/funk band. That's when I started to fully focus on productions. That was around 2013.
Playstation 1, huh? So that's like, the mid-90s or something?
Even earlier on I got interested in music. Music was always played in my homes, and on every car journey. I often fell asleep with my radio—and later my walkman on, sneaking it to bed so I could listen to tapes. One of my most significant early memories of music impressing me, was listening to the Jazz On A Summer's Day compilation which came out in 1984 when I was eight years old. My dad played it pretty regularly and it introduced me to a few of my all-time favorite songs: Dave Brubeck's "Take Five," and Sarah Vaughan's "Lullaby Of Birdland." It opened my eyes to jazz music, without really realizing that's what it was.
Alright, let's take a leap in time. The present. You're about to release a J Dilla tribute project consisting of "classical reworkings of Dilla's music and turning them into new hip hop and soul compositions." Can you please elaborate a bit on that? In which way did you "re-do" his music?
In February 2020 I am releasing a project called Vice Beats Presents – Dilla: The Timeless Tribute. Back in 2011, my daughter was in the hospital for a long time, and I was trying to find ways to stay motivated. I watched Miguel Atwood-Ferguson's Suite For Ma Dukes, which turned my creative brain back on. I was so inspired by the whole project, and I decided that I wanted to create a tribute based on that piece. Fast-forward to 2013:  I started working on a few ideas, and since then it has been a passion project. Working with artists from around the world to turn the classical tracks back into hip-hop and soul tracks. With new compositions and structures.
The album will be released via HHV and Fat Beats on limited vinyl, and is an official Miguel Atwood-Ferguson-approved release raising money for the James Dewitt Yancey Foundation in Detroit. They do some incredible work supporting their community and providing music education in places that otherwise wouldn't have access to creative support. All profits are going to the foundation.
"I think to have geeked out with producers about Dilla for years, you can get into the mindset that he was always super technical. But actually sometimes he just chopped a great sample and let it run."
I can imagine dissecting Dilla's music for your own reworks taught you new things about his productions, methods, and structures?
One thing that I learned during recreating one of my all-time favorite Dilla productions, "Fall In Love", was the simple beauty of the track. I think to have geeked out with producers about Dilla for years, you can get into the mindset that he was always super technical. But actually sometimes he just chopped a great sample and let it run. Learning that really helped me with the rest of the album. It made me less concerned about technical detail. And think more about the soul and feel of each track and the record as a whole experience.
Please allow me to use the J Dilla Changed My Life cliché to ask you, well, how J Dilla changed your life?
I think one of the key ways that Dilla has influenced me is his personality and the legacy he created. Irrespective of the artist or location, every artist who was lucky enough to work with him or simply meet him has spoken about his genuinely kind and warm persona. He was a rich character. Having been classically trained, surrounded by music, ensuring his family and friends were supported and included in his progression and influenced by music irrespective of genre, format, age or anything.
He lived his musical and creative life the way he wanted to and that is incredibly inspiring. I have been lucky enough to meet Ma Dukes, and also to interview Illa J and Egon, and they tell some wonderful stories about the gentle and insanely talented character that is Dilla.
I think technically, I have listened over and over again to Dilla's swing and "micro-chops." It's amazing to dissect the music he has created and see how he made it. I'm more influenced by his more soulful and instrumental projects. And I prefer his music as a producer as opposed to an emcee. That said, he can flow! But I think that his magic was understanding what artists needed sound-wise. Even if they didn't.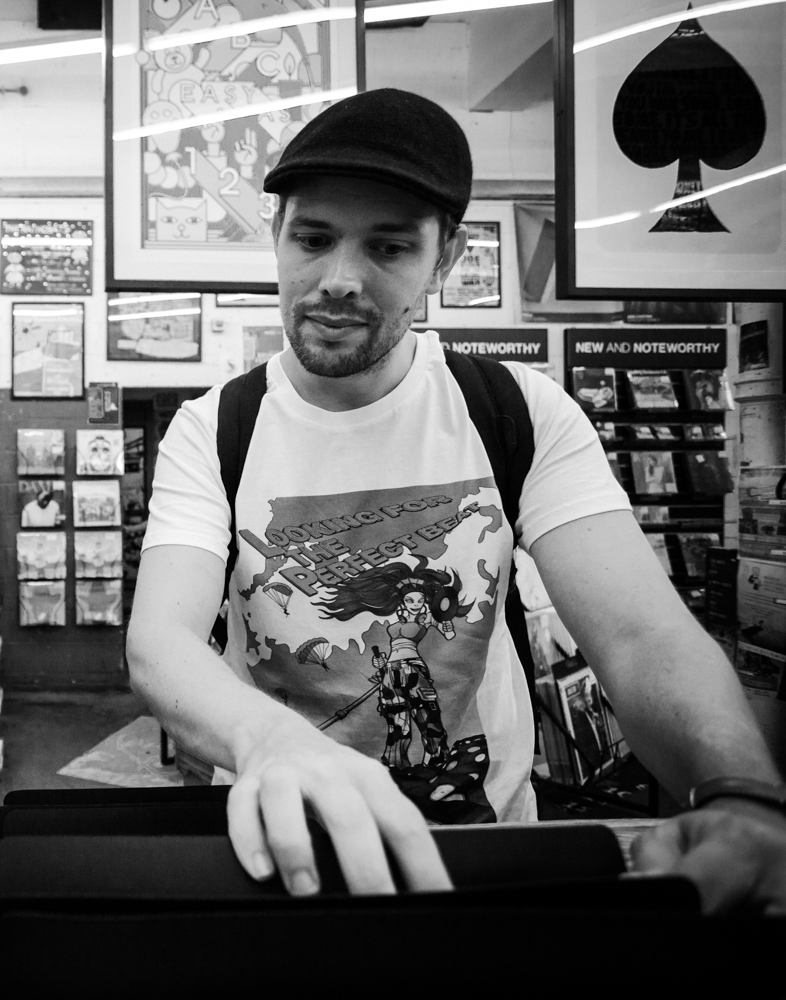 Are you a record collector yourself? 
I am a collector… a pretty disorganized one, it's a mess! I have roughly 1500 records, I think. I have been incredibly lucky that all of my family are very supportive of me making and sampling music. So I have three generations worth of vinyl from my great grandparents, grandparents, and parents. Plus my own ever-growing collection. On my side, I really enjoy collecting lyrical hip-hop, soul and funk. I like listening to instrumental stuff too, and have an expanding collection of that. Obviously including The Find Mag's Jazzvolution!
Good to hear you like that one! And what are some of your most prized possessions? 
There's a number of them. I love my 7" The Shining box set I got it for Record Store Day a few years back. Plus the wooden Jurassic 5 box, signed by all of the group! Every city I go to I try and find somewhere to dig. So my favorite records tend to be my finds from other countries, discovering local artists and hidden gems. I still love a colored vinyl of Blu & Exile, and I'd say my most played vinyl is Panacea's Thinking Back, Looking Forward EP which I found digging in Manchester with Mecca:83. I later went on to make music with them. Which I still can't believe to this day as Rawkus Records was my number one label for most of my life!