Video: InDepth – Higher Value? When Hiphop Becomes More Restricted (Album Teaser)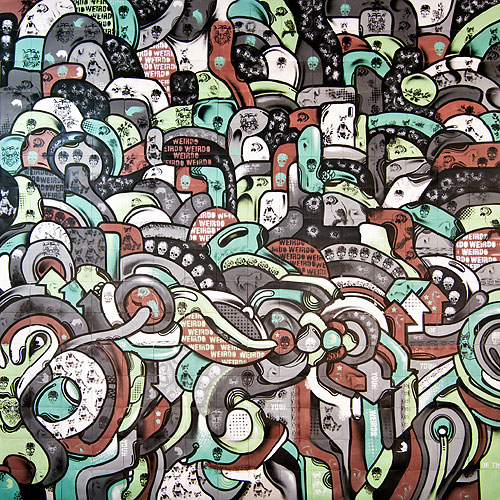 Dutch duo InDepth is preparing the release of their new album "Higher value? when hiphop becomes more restricted". We had a quick listening session in their studio a while ago and we're psyched to hear the full thing ever since. A progressive release full of abstract tunes; according to themselves it's "music which could best be explained as hip hop". 
But the artwork stands out the most to us. Take a close look at the art below: that's one piece of art by visual artist D-Virus with 256 vinyl sleeves as background! That makes the cover art on every single hand-numbered vinyl sleeve unique. Watch the progress here and pre-order one of the limited copies here. The album teaser below gives you a brief taste of the upcoming release.
Vinyl addicts and music collectors should also take a look at their Limited Item Lovers side-project. A place to buy limited edition records, tapes and collectables. Now including a rare Del The Funkee Homosapien cassette tape, a Delicious Vinyl Eat to the Beat pizzabox and a new record by L'Roneous on wax.