Boys will be boys: Budapest-based trio Jazzbois fully indulges in jazz and hip-hop with childlike enthusiasm. Last month's Jazzbois Goes Blunt is the official debut album by Bencze Molnár (keys), Tamás Czirják (drums), and Viktor Sági (guitar/bass) on Hungarian label Blunt Shelter Records. All-improvised in a timespan of only a few hours.
How did you guys get together as Jazzbois?
Jazzbois started out as a duo at music college. With Bencze on the keys, and Tamás on the drums and a bit on the Moog bass. We linked with Viktor via similar projects and by musical nature. We also play together in another band called Amoeba, which is a bit more on the live electronica, neo-soul, future-disco side. As Amoeba, we play more in the summer and less live shows offseasons, so I think with Jazzbois we were able to keep gigging and thus mostly improvising in live situations. It has kept us in tune with what we do as a trio as Jazzbois. That also helped shape our sound from a live setting to a recorded product; Jazzbois Goes Blunt on Blunt Shelter Records.
So making music equals making a fulltime living for you guys?
We are fortunate to be making a living from the music scene in Budapest. Or at least, we are able to manage so far! Tamás plays in many other bigger local bands, but we all gig a lot here and there. Viktor also books for venues, DJs and manages other musical projects. So we're all eating music! [laughs]
What do all three of you bring to the table for the collective style and sound of Jazzbois?
Bencze lays out the textures and the harmonies, I think his style and feel is very much defined by the Prophet and the Rhodes on this album. Tamás and Viktor are basically in a constant rhythmic mode and shift. But it must be mentioned that Tamás is also the recording engineer. So the sound of the album is really his credit when we're talking about the raw material. He basically set up the room for us and himself and we went in, improvised for two and a half hours, and we were done with all the material for the album!
"Jazz fusion really embraced new synth and electronic possibilities. That's a clear influence you hear on Jazzbois Goes Blunt."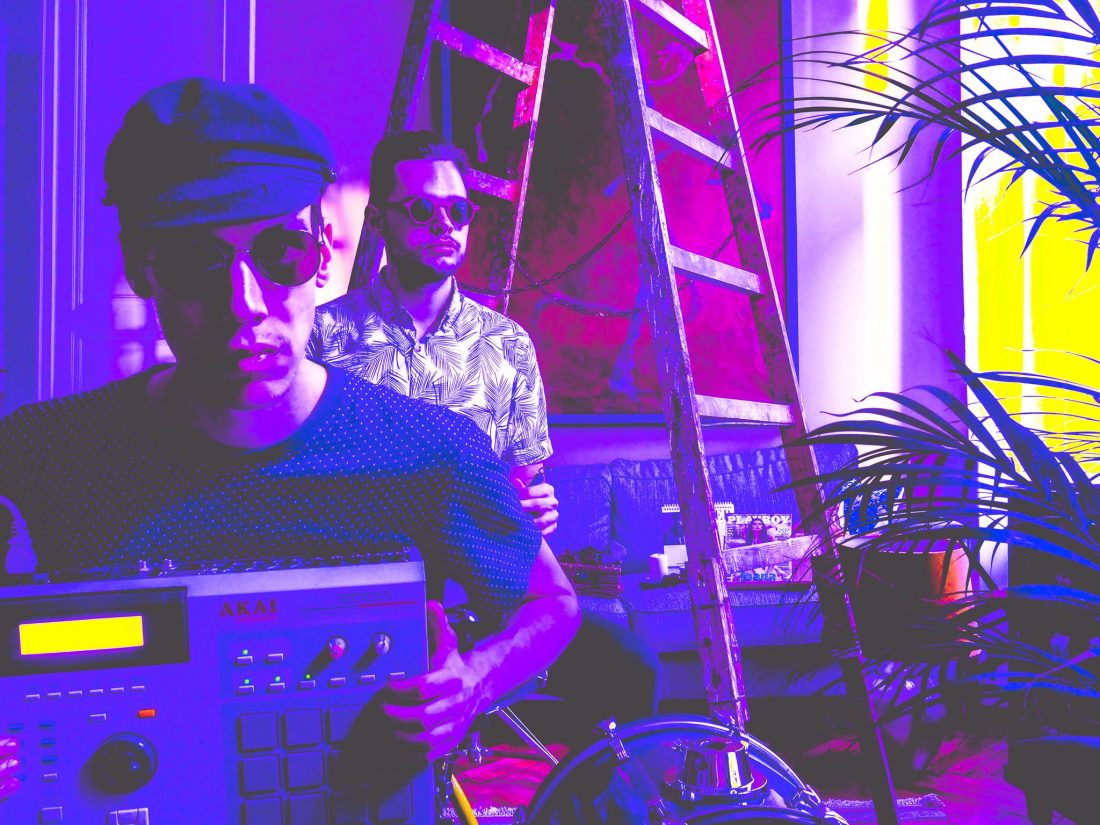 With improvisation at the core of Jazzbois, which albums are essential to you guys to develop yourself as an improv-grounded musician? What do you learn from those albums?
The fusion jazz era, so the early 70s to early 80s. The most amazing thing about these masterpieces is the way jazz is molded and fused to take the listener to a completely different place than where bebop or classical jazz would have dared to. It's diving-into-the-unknown type of stuff. It had no precedent. It was bold and adventurous and reflected that era's advancements in instruments, too. Jazz fusion really embraced new synth and electronic possibilities. That's a clear influence you hear when you listen to Jazzbois Goes Blunt.
And then there are also artists such as Karriem Riggins, Madlib, Kiefer, Kaidi Tatham, Henry Wu, Mansur Brown, Floating Points, and BBNG who all three of us love.
So to link those primarily jazz fusion and hip-hop influences: what do you learn from beatmaking that you now put into playing jazz? And vice versa: what do you learn from playing live music with each other that you put into beatmaking?
I think from beatmaking we take and learn a very simplistic approach to making music. 'Playing in the pocket': there is beauty in the minimalistic genius of creating short loops. Creating a vibe and locking into that, and then fine-tuning those minimal elements together. It's a very different approach than jazz music. Then from the live music side, obviously we can learn how we can shift these moods, loops, or themes on the spot constantly, to keep it exciting for ourselves. This is where improvisation comes into play. And how we play off of each other in a live setting.
Is sampling also part of that equation?
We have used samples at live shows, like the Herbie Hancock/Slum Village "Get Dis Money" loop. But we've even played over Busta Rhymes' "Gimme Some More'" intro loop. I think in this day and age, samplings  has been totally liberated. Ten-plus years ago, it was expected to keep digging in the past. To dig over and over in the same place for more and more samples. Nowadays, this "unwritten rule" has been lifted: you can pretty much sample anything! A cool breeze, a television, old-ass tapes,  YouTube—whatever! As long as it provides some kind of feeling or atmosphere, it works.
You guys are from Budapest. How's the local (hip-hop/jazz) scene over there? How is it for you guys from a local's perspective?
Exciting things in Budapest! The city has a 24/7 nightlife with lots of events on almost literally every day of the week. We have a very lively hip-hop/rap scene. There are events for more of the old school genre but, then again, we have the very young kids on the future rap and trap side. So it is very colorful and we have lots of local hip-hop content. Thankfully, all the above is increasing in quality also.
This is what Spotify's algorithm shows as artists "fans also like" if they listen to Jazzbois: Perrin, Tzapa, Amoeba, Àbáse, Jake Milliner, Vanis & Crain, and Type.Raw. Any favorites or friends?
Oh yeah, they're all local friends with the exceptions of Type.Raw and Jake Milliner! Man, these algorithms are onto something.. Definitely check out Tzapa, he is a dope hip-hop producer, a good friend of ours. Perrin makes some really quality future-funk. And Àbáse is a major-major afro-funk and broken-beat producer. Bigups!