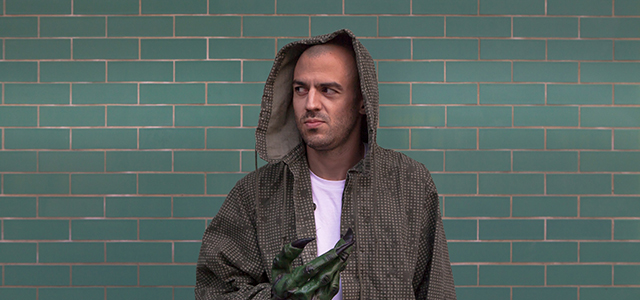 Dr. Zygote is someone I believe we can all learn from. Producing and experimenting with music is not new to Dr. Zygote, who has put out numerous projects featuring names such as Kashmere, Verb T, Sundragon a.k.a. Supa T and Lewis Parker. Not forgetting being part of UK hip hop crew Diversion Tactics and Strange U.
Someone who has done so much for UK hip hop, from an early age, and managed to produce, promote, DJ, manage a label and still keep grounded without losing sight of the main inspiration, music, which is very refreshing to see. Aside from creating music, Zygote and fellow DJ/producer and all-round hip hop head Jazz T set up their own record label. Together they have been supporting respected old and new artists to showcase their work through Boot Records.
Dr. Zygote's Haze / Maze Vinyl EP is now available over on the Zoot Records website (Boot's sister label) , so this seemed like the perfect time to ask Zygote himself a few questions about his experiences within the industry.
When did you first know music was what you wanted to do?
I think around the age of 16. I got a bit sidetracked since then at times, but now it's my main focus.
What artists really got you into hip hop?
All people my older brother was into early on. Public Enemy, De La Soul, NWA, Pete Rock & CL, Caveman, London Posse… He used to record Yo! MTV Raps, I studied that shit. But I was into all sorts of other music at the time too. When I really started buying hip hop records of my own, it was the late 90s independent stuff like Company Flow, Dilated Peoples, stuff on Fondle 'Em, Rawkus, ABB, Ronin and Jazz Fudge.
What was the first piece of equipment you used to produce music on?
Technically it was a KAM Made 2 Fade mixer that had an awful looping sampler on it. I used to make loops and overdub them on a cassette deck with a mate, that would have been around 1992. Then I got hold of an AKAI S01 sampler. That was quite limited (only 8 samples, mono) but I made my first record on it.
Was there someone who taught you how to use the equipment?
To be honest I didn't know anyone at the time that could have helped me, so I had to teach myself. There was no internet either.
How long were you producing until you felt comfortable with your sound?
It's hard to quantify, on one level not long.. but then there's a part of me that is never comfortable with my sound. That part is smaller these days. I am kind of grateful for it because I don't think I'd do anything if it wasn't there.
From producing to your own record label, how did that begin, when did you and Jazz T first meet?
I'd heard his name around town from someone I used to engineer for, who described him as someone that had a lot of fat records. The day after I finished my A Level exams I was invited to this massive house party and told to bring records to play. I was spinning and making drum and bass at the time. It was a mad night. Someone fell in a pond. Someone snorted some washing powder. Anyway I ended up spinning drum and bass back to back with Jazz T, and we were into the same kind of stuff. And we were both into scratching. I think that was 1997.
From a party to deciding to create a record label… how did that come about?
It came about so I could put out this beat album I'd done for scratching over, and then it grew from there. Saying that, it is still essentially mainly a means of us putting out our own music or music that we like. We're not a multinational conglomerate. It's more about expression, and trying our best not to lose any money.
"

I didn't exit the womb whistling James Brown

"
Was the Boot Breaks LP your first release? Was that a big experience for you?
I'd already had 3 drum and bass records out before that, starting when I was 16, so I knew what it was like to have things out there, but I guess since it was the first record I had put out myself it meant a little more.
Which track to date that you were involved with holds the most personal value to you?
There are many, but the one that comes to mind is "My Sound System" by HUG (produced by myself and Jazz T). HUG is a cool guy and a dope emcee and came over a few times and stayed in Guildford. That EP is somewhat overlooked but I feel we kind of cemented our sound on that one, the three tracks are pretty cohesive. That beat in particular; it's dark and sounds big and it was fun when we made it.
First vinyl you remember buying?
The first vinyl I ever had was a KC And The Sunshine Band 45 that came free with some Clarks shoes I got when I was about 6. I can't remember for sure what the first one I bought was.. although I think it may have been an Iron Maiden picture disc. I didn't exit the womb whistling James Brown.
Favourite record shop?
Ben's Collectors Records in Guildford (UK) by far. Nowhere else I have been comes close. Ben is a friendly bloke who consistently underprices stuff and offers cups of tea. Because of this, the good stuff doesn't hang around there for long though so it's one of those ones that you need to try and get to most days.
If you could produce for anyone who would it be?
That's pretty easy, it would be DOOM. I feel it would be a good combination, dark-like. But then I'm sure lots of producers would think that the combination of their beats and DOOM would be a good one, so I'm probably not unique there.
And if you could BE any producer for the day, who would it be?
That's tough… It probably wouldnt be a hip hop producer if I am honest. People that come to mind are Photek, David Axelrod and King Tubby. I'd like to study these people's techniques.
Boot Records has been going for a while now, is there any advice you would give to anyone trying to break through with a new independent label?
I would say, watch what High Focus do. Not that that is what we do, but they are clearly doing something right.
Favourite artists at the moment?
That's tough… I'm a bit averse to listening to new music but I've been trying to remedy that. I like some of the Onoe Caponoe stuff. Jonwayne, Captain Murphy, Metabeats, Jeremiah Jae… Telemachus is doing some good things. There's these dudes from Belgium, Hermutt Lobby, they do some crazy stuff with live electronics.
Can you talk us through any new releases you have for the future?
I recently dropped a little instrumental EP on Zoot Records, which is an offshoot of Boot. It's a 6-tracker, some tracks I put out last year digital-only plus a couple of new ones. That's just me exploring different areas. It's called the Haze / Maze EP and comes in used record sleeves, spray painted. Individual like.
I've got this instrumental library LP out on Black Acre, that's out now as well. It's all live, no samples, me playing all the instruments. It's out now digitally, the vinyl is coming but has been delayed for the moment.
And then there's the next Strange U EP coming on Eglo Records, hopefully before the year is out. I'm really excited for people to hear that.. we're really cementing our sound. Myself and Jazz T are also stepping up what we do. We've got a hoard of bangers that we need to start using.
Do you have any advice for hip hop producers trying to get into the hip hop scene now?
The only advice I would give is the advice I try and give myself: it's about playing, messing around, having fun with it. If I am too focused on the end result, I lose sight of this and it can seem like a chore. Other than that, for me it's about consistency, every day trying to get in touch with that element of messing about for at least 5 minutes. I've done that every day for over a year and it's really helped me.
When did you and Kashmere decide to work together on the Strange U project?
Strange U came about kinda naturally. Kash wasn't writing for a while, but I kept sending him beats. He did "Rancid Canvas Licks" under the name Strange Universe (produced by Cross Bone T) and threw it up on YouTube with some strange visuals, without really any plans to put it out formally. Then we did Plastique. With that momentum we just carried on really. Me and Jazz T collaborated on one of the beats, and there is another member too: Big Eyed Ron. We started thinking about options for putting the music out and the Eglo Records thing came about.
Strange U played at Boom Bap Hip Hop Festival this year, how was that experience?
Boom Bap was fun, although our set coincided with the Beat Battle which I would have liked to see. We're looking forward to doing that again and lots more shows.
—