Interview: Joseph 'DJ Jab' Abajian (Founder of Fat Beats) + Playlist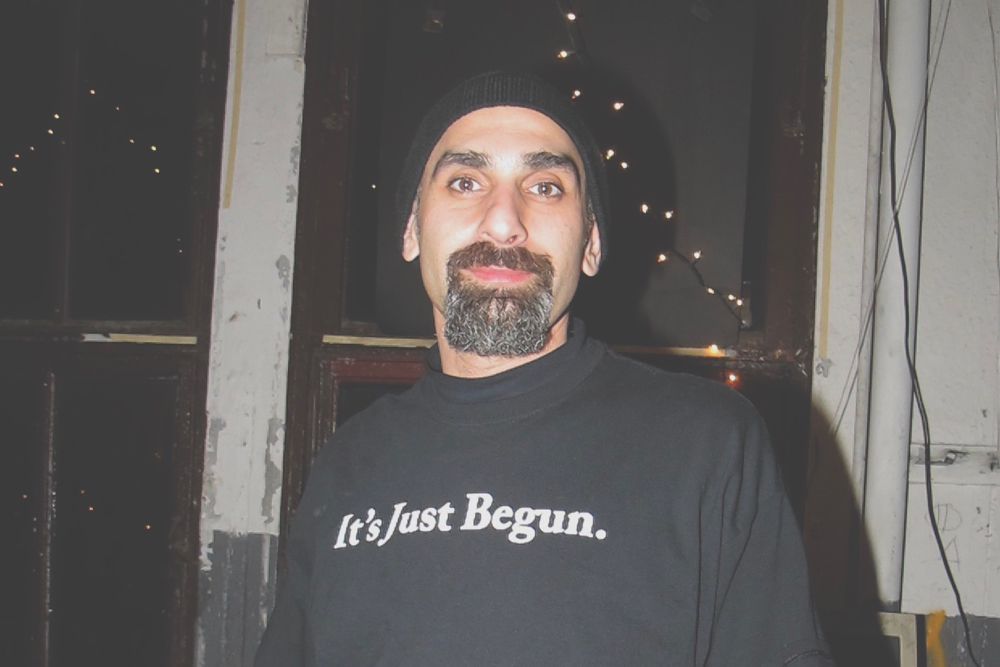 It's a bit of a cliche to state "…. doesn't need an introduction." But we can't help the fact that

Fat Beats

really doesn't need one.
This year, the iconic record store and distributor celebrates its 25th anniversary. A celebration worthy of a trip down memory lane together with Fat Beats founder Joseph Abajian a.k.a. DJ Jab.
In a piece for Red Bull Music Academy, you mentioned that in the early 90s you were going to stores such as Beat Street, Downtown Records & Vinylmania to get your records. Was there anything you've learned from visiting these stores which you then used for your own plans to open a store?
Those stores were mainly focused on house music and imports and stuff. All with a small hip-hop section, but tucked away in the back. So it's not that the stores had a direct influence on Fat Beats, but it definitely opened my eyes about something: we were in the birthplace of hip-hop, but there was no record store dedicated to hip-hop yet?! It felt like a huge void which had to be filled. 
We've all heard the amazing anecdotes about the first Fat Beats store in a basement in the Lower East Side. But starting a business isn't always fun and games. Can you share any struggles or lessons from the early days of running Fat Beats?
It takes so much time to start a business. That's something I really underestimated! Going to all the labels asking for releases and to get promo material. Going to shows to spread flyers and to talk to as many DJs as possible… That's what it was all about: generating word of mouth. Also by going to schools to pass around demo tapes with Fat Beats stickers on them, to get the word out among young hip-hop enthusiasts.
Nice! Any special demos you remember?
[Laughs] Man, that goes way back, I have to check the archives for those… But I remember stuff like early Diamond D promo tapes.
How did opening a store have an impact on your personal life? Did you have to give up a certain way of living to make things happen with the store?
It wasn't that bad. If you have a passion for something, you go for it. So I just had to be present at the store a lot. I also slept there quite a lot of nights in the early days. And I've always been a pretty conservative guy, so I didn't buy a lot of "things." So it was not that I had to give up on a certain lifestyle. It was more of an investment in time rather than things. And I had to buy records for the store, so it's not that I didn't have a budget myself to buy records anymore.
"That's also what was so special about Fat Beats: it was a melting pot of people where anyone was welcome."
How was it to be there in the store as a hip-hop head first and foremost, when for the first time prolific DJs and hip-hop artists stopped by?
I remember even before we opened, Bobbito came to the store. He was shouting out Fat Beats on air even before we officially opened! Or guys like Q-Bert, Roc Raida – rest in peace… A lot of DJs who I didn't really know yet, but who I met in the store. And seeing all those incredible DJs got me thinking like "Damn, I need to step up my game as a DJ!" So indirectly, Fat Beats also pushed me to become a better DJ myself. Jam Master Jay also visited the store in the first few weeks, by the way. And many others, of course. It all started with the DJ community for us.
Makes sense. 
It was the top of the word-of-mouth-pyramid, so to speak. That was before it was passed on to producers, emcees, and even a lot of other visitors. I mean, New York is a huge city, but in the end, it's small in terms of getting around. It's easy to get to places. So our location in East Village helped for that. Not only to reach people like DJ Premier, Jazzy Jay, Red Alert, Lord Finesse, the whole D.I.T.C. crew actually, El-P, J-Live… To name just a few. But East Village was such a diverse and dynamic place—there were art people, skateboarders, hip-hop fanatics… We reached a wide array of people interested in hip-hop. Not just the DJs or the hardcore hip-hop heads.
Was it a strategic decision to open a store in that area for that reason?  
To be honest, mostly because of the rent. It was only about $500 a month, which was fine. Back then you had St. Mark's Place, a big shopping street with a lot of traffic. But I couldn't afford the rent there. That was at 8th Street, so we opened Fat Beats at 323 East 9th Street. It was definitely a plus to be in that area. It brought in a diverse crowd. Back then, my neighbor Ryan [Sikorski] was into hardcore music, and he was running a mail-order business. He helped me out to start things up with Fat Beats. Ryan was a skateboarder himself, so that brought a lot of skateboarders to the store as well. And with me being a DJ and former b-boy, we both reached different audiences. That's also what was so special about Fat Beats: it was a melting pot of people where anyone was welcome. 
Eventually, Fat Beats evolved into helping out indie artists with the distribution of their records. Did this originate from a love for music, or out of a bare necessity you observed?
A bit of both, I guess. In the mid-90s I got in touch with Rich King from New Jersey, who was an executive at Big Daddy Records. He was trying to press more independent releases with Big Daddy. But there was only a certain amount of records Big Daddy could do, so we got talking which eventually led to manufacturing, releasing and distributing records under the moniker of Fat Beats Distribution as well. A few early releases include "My World Premiere" by Charizma & Peanut Butter Wolf with Stones Throw, and D.I.T.C.'s "Day One" promo.
Which Fat Beats release meant the most to you personally, and why?
I'd say the Funcrusher EP by Company Flow in 1996. El-P was a regular at the store and to me, that release was perfect. The raps, the productions, the replay value… In 1997, Rawkus bought it from us and put out Funcrusher Plus. It's one of my all-time favorite Fat Beats related releases.
To which extent were you the 'main curator' for Fat Beats releases?
At the beginning, I was together with the rest. But not anymore. I mean, I'm close to 50 years old. I don't want to be that guy anymore who decides what's worth releasing and what's not. When, let's say, Clear Soul Forces has 1 million streams, who am I to agree or disagree with a release? I happen to love Clear Soul Forces, so I'm fully down with that release. But I'm just trying to illustrate that these days it's best to leave the curation of releases up to other people who are great at that.
How have things changed for Fat Beats? Especially in this day and age, everyone runs a record label now…
[Laughs] Tell me about it…
So how do you make sure to stay relevant in a modernized and saturated market?
A lot of things have changed for us: we closed our New York and Los Angeles stores back in 2010, and last year we returned to Los Angeles with a new brick and mortar store. Speaking of which, it's crazy to talk to some people at our 25th-anniversary events a while ago, who didn't even know that Fat Beats has still been around online and with a store in L.A.! So you can't compare Fat Beats from back then to what Fat Beats is now. But one thing hasn't changed: Fat Beats as a 'stamp of approval' for quality music. I'm glad a lot of people still associate Fat Beats with dope music. So there are still a lot of artists and labels coming to us for distribution and releasing music. Slice of Spice, Ubiquity, Paxico Records, Madlib Invazion, All City Records, Bastard Jazz… You name them.