News: Concept album 'Geldfundphantasyen' by Flatpocket (Twit One & Lazy Jones)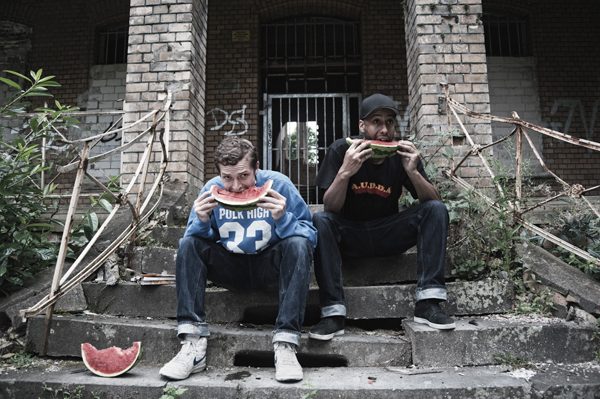 Cologne-based beatmakers Twit One and Lazy Jones like their pockets fat not flat, just like Showbiz & AG. But the young musicians don't always have their pockets filled. That's why their new collaborative project is called Flatpocket. Their concept album titled Geldfundphantasyen will be released on December 7th on Melting Pot Music.
The title Geldfundphantasyen is German for 'Finding Money Fantasies' and covers the concept of the upcoming album. Listen to the first track "Nomoneynohoney" below. It's a jazzy flip of the song "Money Is Honey" by Jimmy Rushing and Count Basie. The track is followed by the cover, tracklist, and a link to pre-order the vinyl.
01 Flatpocket Theme
02 Nomoneynohoney
03 Wartemarke
04 Jingle
05 Sofortrente
06 Dirge
07 Roomboy
08 Lostallmymoney
09 Kurze Arme
10 Achtuhroutro
11 Redebedarf
12 Sunday
13 Keinasselskit
14 Metime
15 De Flöt
16 Down & Wise
17 Inmypocketskit
18 Rotgeldhustle
19 Geldfundphantasyen