Contest: Limited edition 'Blue Note State Of Mind' flexi-disc, signed by Lord Finesse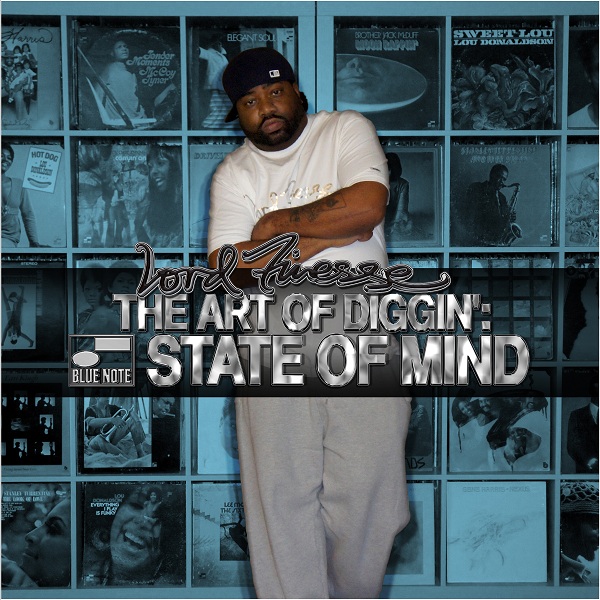 Today marks the release of the second edition of the Art Of Diggin' mix-cd series. This installment is called Blue Note State Of Mind, curated by the legendary Lord Finesse. As the name implies, the mix series is all about crate digging, samples and all that jazz. In conjunction with Slice-Of-Spice we give away an autographed copy of the limited edition flexi-disc!
In 1999 a series of collectable CDs was released called Diggin' On Blue, which included Lord Finesse, Biz Markie, and Pete Rock. That CD is now a rare find and if you come across it, you'll have to pay a nice penny. With that being said and a demand for the CD, Lord Finesse decided to revisit the Blue Note archives. While the majority enjoyed Diggin' On Blue, some complained there was too much talking on the CD. This time around, like a classic motto for radio stations: "There's more music and less talking."
The Blue Note State Of Mind mix features grooves, samples, and vintage classics from the Blue Note archives. If you enjoyed Diggin' On Blue, this one should take you over the top. This mix is for music lovers, collectors, obscure diggers, jazz lovers and fans of sampling. This is a compiled collection of the Blue Note catalogue. Listen to snippets here, here and here.
Win signed flexi-disc!
x Follow The Find Magazine and Slice Of Spice on Facebook. 'Share' this post with your friends.
OR
x Follow @TheFindMag and @Slice_Of_Spice on Twitter. Tweet/RT the following: I wanna win a signed 'Blue Note State Of Mind' flexi-disc by Lord Finesse, via @TheFindMag & @Slice_Of_Spice http://bit.ly/zygOsW RT to win!
OR
x If you're not on any social media, you can send an e-mail to info [@] thefindmag dot com telling us what your favourite Blue Note record is and why.
UPDATE (11/1/2012): Winner's announced on Twitter and Facebook. Congrats!
—