Krautrock and its Hypnotic Legacy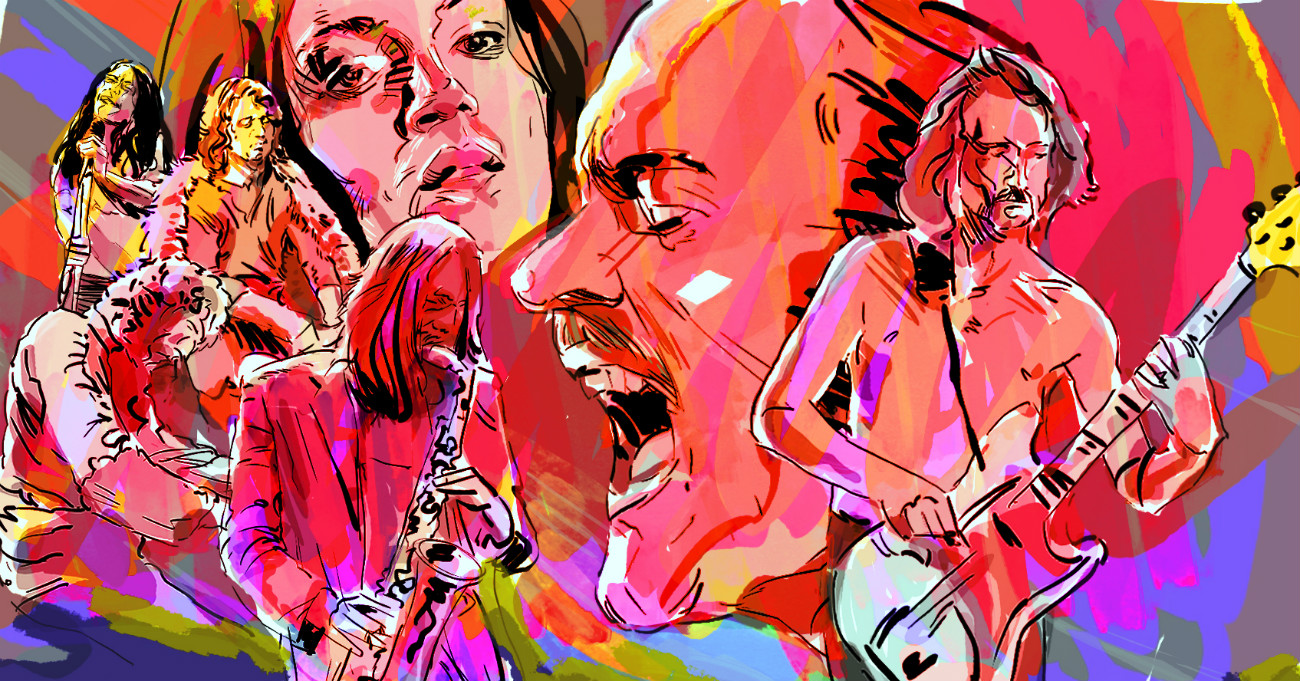 Krautrock is no easy genre to define. But its elements have managed to seep into the crevices of modern music as we know it, past and present. I want to endeavor to explore the legacy of the genre and how krautrock is ever-poignant in many current waves of culture.
(Article by Esme Bennett | Illustration by Mladen Luketin)
Most of us know krautrock, also known as kosmische musik, aptly meaning 'cosmic music', to be the West German genre rising to prominence in the 70s. Mostly affiliated with synth-pop and electronic act Kraftwerk. Although Kraftwerk was, by all means, a key act to be associated with krautrock in terms of stylization and German avant-garde, there is so much more to explore when it comes to this elusive genre.
Similar to how the art of the Weimer culture immersed itself in Germany during the interwar period of the 1920s, the mysticism of krautrock could be seen to be born to a directionless system. The genre began possibly as a reaction against the dominant rock-n-roll of at the time and coincide with the political upheaval and social rebellion in the air of post-Nazi Germany. The result was a multi-hybrid of (to name a few) psychedelic rock, ambient, minimalist, avant-garde, in which a few enigmatic bands who dared to cross the boundaries would alchemize the revolutionary fever of post-war Germany into a series of experimental works of art.
Brain Records was one of the most poignant labels for harboring some of krautrock's biggest names: Tangerine Dream, Popol Vuh, and Harmonia were all released under the 1972 Hamburg-based label.
Holger Czukay's layering of records and 'radio painting' helped to pave the way for extensive use of sampling in the years to come.
Irmin Schmidt, keyboardist and founding member of Can described the bands identity before their start as 'We were bought up in ruins without talking about it, but it was in our minds'. The methodical madness of Can's obscure and brilliant style is best understood as arising from this sense of misdirection in post-war Germany. Their inspirational 1971 album Tago Mago is infused with near 20-minute tracks which seem to seek out to obliterate conventions.
According to Can's drummer Jaki Liebeziet, a 'crazy' guy once told him 'you must play monotonous', and this mantra somehow stuck and immersed itself into their music. The more constant and motorik the sound, the more hypnotic and unique it became. A hub of where the krautrock pioneers would come together was the Zodiac Arts Club in Berlin. Founded in late 1968 by Conrad Schnitzler and Hans-Joachim Roedalius, both co-founders of multiple kosmische groups such as Tangerine Dream, Cluster and Harmonia. A haven where convention was shunned and abnormalities embraced.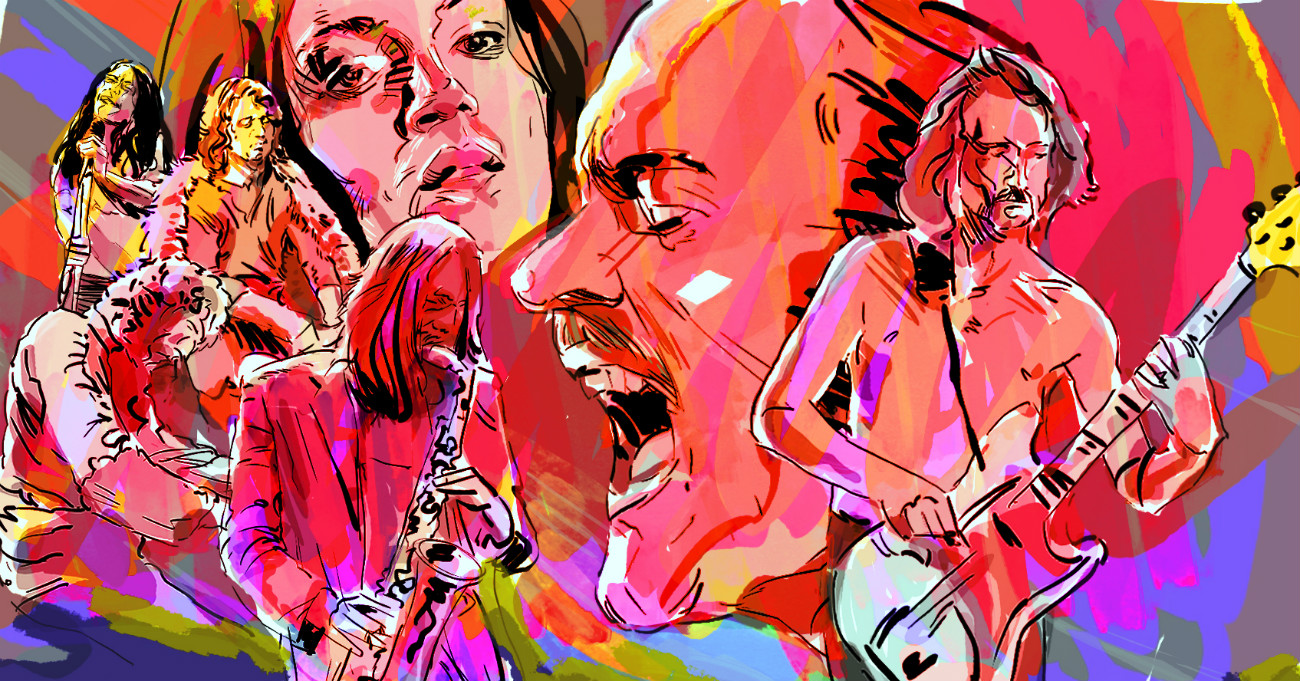 The legacy of krautrock can't be discussed without mentioning Holger Czukay, pioneer of ambient and world music and bass player of Can as well as building a huge repertoire of his own. Born in the then 'Free City of Danzig' in 1938, Czukay was mainly inspired by the ambiance of early radio waves and the cosmos of electrical engineering. His layering of records and 'radio painting' is likely what created their own signature sound. Which also helped to pave the way for extensive use of sampling in the years to come.
On Czukay's 1979 album Movies, he uses shortwave sound-grab in a formative sampling fashion which would pave the way for future sampling, too. In 1981, David Byrne and Brian Eno did the same thing for My Life in the Bush of Ghosts, for which Hank Shocklee, pioneering hip-hop producer of The Bomb Squad, would mention as a key inspiration in his love of sampling.
The spread of Komische Musik was clearly far and wide. Even 70s electronic bands like Merseyside-based Orchestral Maneuvers in the Dark can be seen to be clearly influenced by the German soundwaves crashing across the Atlantic. Take a listen to their Peel Sessions between 1979 –1983 and you'll clearly hear the repetition so often attributed to krautrock.
To begin to round off, here are some of both the most underrated and recognized artists under the krautrock umbrella. This is by no means an extensive list, merely a taster session. Listen to the playlist above for the following tracks:
A.R. And Machines – I'll be Your Singer You'll Be My Song: Hamburg-based Achim Reichel's solo project A.R. and Machines is perhaps a less recognized, but still incredible krautrock track.
Can – Mother Sky: an intoxicating potion of komische sensibility. Also the soundtrack to Jerzy Skolimowski's 1971 masterpiece Deep End, starring Jane Asher.
Neu! – Fur Immer (Forever): almost reminiscent of the modern post-rock outfit Mogwai, this track has an extremely accessible gliding rhythm, but you need to listen to Neu!'s whole back catalog to get a taste of their genius.
Cluster and Brian Eno – Steinsame: possibly the most enigmatic collaboration to emerge from the ambient and new age era. Komische-associated Cluster and ambient pioneer Brian Eno's self-titled 1971 album is a feast for those interested in the ambient side of krautrock.
Now that I've mentioned a few of the tracks that encompass krautrock as it is, I want to draw on a few tracks that have been clearly influenced by elements of the movement. Here are a few bands that have really taken elements of krautrock and made it their own:
Deerhunter – Cryptograms: the spirit of Can in this album is undeniable here. The track could be on a hidden bonus disc to Future Days and I'd be none the wiser (bold statement I know). Frontman Brandon Cox has been very vocal in his devotion to the Krautrock era and to its influence in shaping their sound.
Beak – Sex Music: the motorik essence blended with psychedelia in the Bristol trio's music is a clear nod to the Germanic greats.
black midi – Ducter: London-based cult experimentalists are defying convention in true komische style and creating their own sound. A mix of post-rock, noise rock and jazz encapsulates their unique sound.
The Horrors – Scarlet Fields: undeniably tinged with motorik and noise rock, Primary Colours is another subtle nod to the krautrock legacy.
I have barely scratched the surface of the intricacies of this incredible genre. So for those interested in gaining greater insight: Julian Cope's 1995 book Krautrocksampler is a good place to start.
"You can make everything / What you want with your head."
– Paperhouse, Can