Article: Hip Hop Cinema – Something From Nothing: The Art of Rap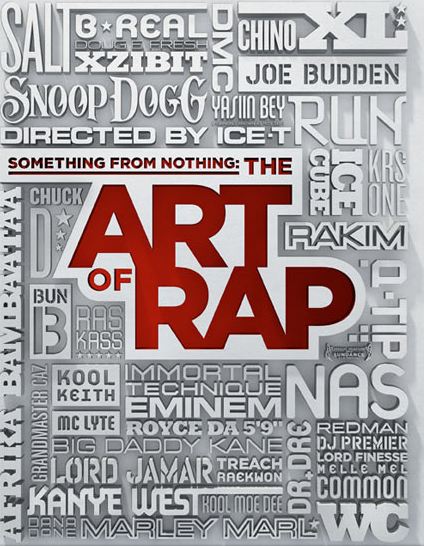 'Hip Hop Cinema' is a series of columns delving into the history of hip hop culture in cinema and television.
"This film isn't about the money, the cars, the jewelry, the girls; this film is about the craft. What it takes to write a rap, what goes on inside the heads of the masters. You go from the South Bronx all the way to the west coast. This shows you how powerful rap music is, how it's changed the world. This isn't a game, this is the art of rap." – Ice-T, Something From Nothing: The Art of Rap
Who else better than former gangster turned legendary rapper, Ice-T, to direct a documentary about rap music? The Art of Rap is not your traditional narrative documentary; it contains no archival footage, no past interviews with dead rappers, not even an actual storyline, per se. Yet, through word of mouth by renowned and influential MCs, it retraces the history and evolution of hip-hop. It even goes beyond to bring rap music down to a personal level and discusses the passion and influence of rap on each individual artist.
The Art of Rap follows Ice-T to urban locations in New York, Detroit, and Los Angeles, where he converses with the grandmasters about the craft and artistry behind rap music. He meets with artists from the different generations of hip-hop ranging from the forefathers of hip-hop such as Melle Mel, Grandmaster Caz, and Afrika Bambatta; to MCs of the 80s, like KRS-ONE, Doug E. Fresh; to 90s rap groups like NWA, A Tribe Called Quest, and Wu-Tang; and current acts including Common, Mos Def, and Eminem.
Hip-hop is all about reputation and there are a lot of big egos involved: winning rap battles, out-spitting your fellow MC, being original, but in The Art of Rap, egos have been checked at the door. Grandmaster Caz acknowledges that "hip-hop didn't invent anything, hip-hop reinvented everything." The masters themselves even admit that one does not pave the path of rap music; it has been and will continue to be paved by many.
Honestly speaking, this film is not for your average moviegoer. People are drawn to the drama and excitement behind the culture of hip-hop, but The Art of Rap is more of a conversation about rap. As for hip-hop aficionados, it is a treasure trove of insight from hip-hop artists themselves. Plus, it is a powerful compilation of freestyle and acappella that showcases the different styles, techniques, and talents of 40+ MCs. By starting dialogues and conversations with fellow artists, Ice-T reveals the soft chewy centers of these street-hardened rappers. MCs are just like everyone else, they are driven by everyday challenges, by family, by life itself. What makes them different is their passion for hip-hop, which gave them a voice to speak up and stand out.