Interview: Fredfades (+ 'Cold' Premiere ft. Ivan Ave, MoRuf & MoShadee)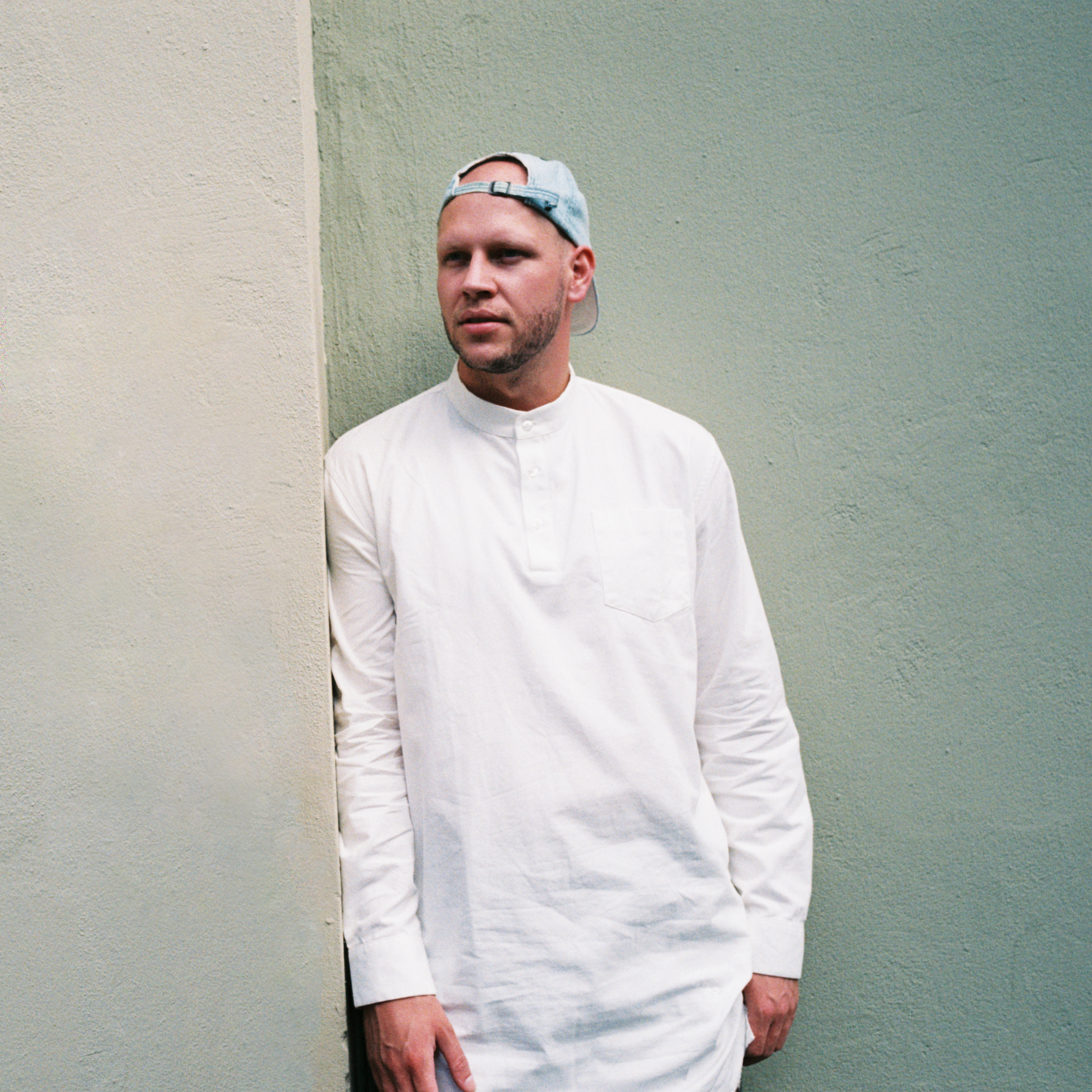 Ever since his Jazz Cats project and his "first breathe" together with fellow Norwegian Ivan Ave, producer Fredfades (Oslo, 29) has been putting a stamp on hip hop with his signature rich, warm sound, on top of jazz, soul and boogie samples–always digging for more. Now he's set for his solo debut LP Warmth, dropping June 2nd. The album features MED, Mndgn, Ivan Ave, Juju Rogers Koreatown Oddity,  amongst others. To warm you up, Fred was kind enough to premiere a new song here at The Find, oddly-titled "Cold" featuring Ivan Ave, MoRuf & MoShadee.
What is your background, has music always been your career path?
I've always done music as a hobby and I don't have any sort of profession in music. I just play by ear. My uncle was a musician and he was kind of stoked when little Fred started to get into music. He and my parents hooked me up with all kinds of stuff for my birthdays and Christmas. Keyboards, sound cards… he also learned me a lot on MIDI, how to sample, and other music-related things. He passed away in 2011, and his belongings were passed on to me. Tons of keyboards, synthesizers, samplers, guitars, amplifiers, microphones, rack devices… I sold all the stuff I didn't need, and was able to upgrade my home studio quite a bit thanks to that.

So how is your studio like? I can imagine there's a whole lot of tools of the trade there then…
I'm not a crazy gear type of producer. I only keep stuff I really use. I test and sell new stuff from time to time. I don't have money or space to hoard shit. I produce most of my music on the MPC2000XL & The SP1200 together with synthesizers such as the Yamaha DX7, the Wersi AP6, the first Nord Lead synth & the ARP Odyssey MK III. All used on several tracks on Warmth. I recently also got myself a patchbay which lets me run things out of Ableton through a chain of analogue compressors and effects, then back into Ableton again. That's when I remember why I'm using analogue compressors instead of digital ones, but that's also when I lose my MIDI and wonder why in the world I moved to Ableton…
What was the most important thing your parents taught you, that you now bring into your work?
They told me to go to Design School instead of studying Mastering–as I first wanted to do–as they told me the music I was making most likely wouldn't result in a lot of money. I'm really happy I listened to them. Now I got a good 9-to-5 as a UX Designer which pays the bills. This means that I never have to stress a single music-related thing ever. I can do music when it comes naturally, in my own pace.
Is there anything you strive for with your music?
When I get tracks done, I keep them for a long time and vibe to them, to see which ones stand the test of time. I often switch between working on a couple of projects at the same time. I also get involved in the product development and packaging part a lot. I breathe down the designer's neck and harass him until we're both completely satisfied with the artwork for a project. Ask Even Suseg or Mutual Intentions' Hans Jørgen Wærner about that.
I don't wanna be one of the new musicians out there who put out good music on shitty vinyl pressings inside shitty glossy covers with shitty design. That's such a waste. When I order vinyl of my favourite artists, I often feel like the product itself is really bad. That's a shame as the music is so nice. It doesn't make sense to me. It's like serving a good dish you've spent loads of time to cook, on dirty plates with a warm beer…
"I don't wanna be one of the new musicians out there who put out good music on shitty vinyl pressings inside shitty glossy covers with shitty design. That's such a waste"
Can you tell us about the track Cold you're premiering with us today?
I went to New Jersey twice during my trip to New York last summer. Once to hang with emcee MoShadee, and once to trace down an old soul group to buy loads of their super rare 7" record from the early 80s. But the studio sessions with MoRuf and MoShadee were done at the hotel room in Brooklyn where I stayed with my friend Disco Terje.
For the first verse, MoRuf, Terje and myself filled up the whole sink in the hotel room with cold ice and a bunch of beers. MoRuf had already received the beat a week earlier. He wrote his verse and murdered the whole thing pretty fast. The day after MoShadee came through and layed down his verse after a bunch of Scotch before we went out partying. I made a rough mix of the track and sent it to Ivan Ave back in Norway. He really liked the track and wanted to hop on it, so I extended the song and sent him a new version. A few days later he delivered his verse–which was of course fire, as per usual with Ivan.

(Or click HERE to stream the track on any other streaming platform, such as Spotify & Apple Music)
So creating the album was kind of a back-and-forth thing between Oslo and New York?
The best part was to escape from Oslo to New York to mix it. I used three days alone in New York to mix and finish up my record, before my friend Disco Terje came from Norway. Then the trip turned into a proper "Homeboy Holiday." Terje is a professional chef and I'm a bit of a chef myself, so we spent a lot of time eating and drinking. I do like to travel to finish up projects. To find time and discipline to arrange and mix, I usually got to get abroad with my laptop. For example, most of the Fruitful LP I did with Ivan was mixed on two short bus rides in Sweden.
The instrumental version of Warmth was a Record Store Day 2017 release. Which records did you cop on Record Store Day this year?
None, I've been really broke this month… But I've sold a lot of records!
So why wasn't the full album released on RSD?
Thing that happened to the album was that we had some problems with the first test pressings and cuttings we received from the plant. This delayed the album a lot. We had to master one of the songs over again too. The second version of the test pressing was way better: brighter highs, bigger low ends, and overall a louder pressing. So the wait was definitely worth it; I've never been more happy with the sound of any other release ever. We also made a bonus 7" EP and a bunch of merch, and put together a big deluxe bundle which can be copped through the label, King Underground.
Whom or what would you consider an underground or forgotten gem which influenced you?
I watch a lot of shitty Norwegian movies from the 70s, 80s & 90s. I'm very nostalgic about my own environment, so it inspires me a lot to watch these kind of movies, and to research old music culture from Norway and Scandinavia.
And recently I've been listening a lot to Egil Kapstad Choir & Orchestra – Syner LP which is a very obscure and underrated Norwegian jazz gem that was recorded in the same street that I live in. It includes legendary Norwegian jazz players such as Egil Kapstad, Jan Garbarek, Knut Riisnæs, Laila Dalseth, Jon Christensen, Frode Thingnæs & Helge Hurum. It was recorded live, 50 years ago, in May 1967 at the Munch Museum just 100 meters from my home, next to the Botanical Gardens of Oslo. Stuff like that inspires me. I listen to it and imagine what it looked like when they played. Even the music itself is a little creepy and haunting…
"I'm very nostalgic about my own environment, so it inspires me a lot to watch Norwegian movies, and to research old music culture from Norway and Scandinavia"
You have your finger on the pulse of hip hop, also with your Mutual Intentions crew. Any producers or emcees worth recommending?
Rappers: Chester Watson, The Left Field Theory (Blue November & Zae The Philosophers crew) & Maxo. Beats: I feel like Bobby Raps is madly underrated. House producers: John Rice & Bruce Trail. These are artists I've been bumping a lot recently, and highly recommended to check out!
What's to come for Fredfades? Does this solo debut open a door to more solo releases, or are you now focusing on new collaborations?
Sun Raw is mixing our collab LP right now. I've started to work on Jazz Cats 2 with Kristoffer Eikrem. Ivan Ave is wrapping up his new record featuring a bunch of different producers. He asked me for some beats that I'll need to deliver. And I also started planning a house record with Tom Noble a while back that really excited me, hopefully we'll be able to wrap it up – need to send him some new tracks maybe.