Interview: Freddie Joachim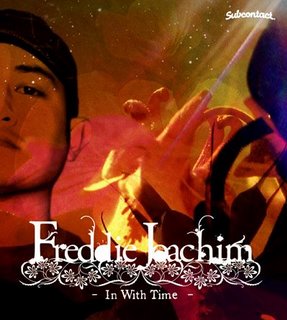 I'm not gonna compare Freddie Joachim to J Dilla, but his jazzy and soulful productions can definitely be put in the same category. 'In With Time' is without a doubt one of the best releases of 2008, but at the same time unfortunately overlooked. Introducing… Freddie J!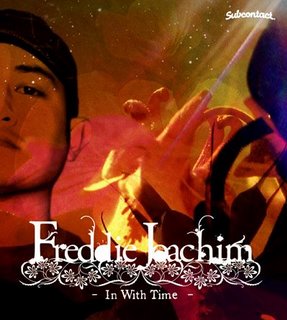 Sometimes you put a disc in your CD-player, you press play and the moment the beat drops you know for sure that it's a great album; 'In With Time' by Freddie Joachim is such album. The DJ/producer from Los Angeles hooked up with artists such as Othello (of Lightheaded), Choice37, Son Of Ran, Surreal, Aloe Blacc and Blu to create his debut album, which released earlier this year. 'In With Time' takes you on a musical journey to the wonderful land of Hip Hop, Jazz, Soul and everything in between. If you are a lover of so-called 'Jazz Hop', I have four words for you: check out Freddie Joachim!
It's hard to put a label on Freddie Joachim's music. Next to Hip Hop, there are very clearly a lot of influences in his music – particulary of Jazz and Soul. But where are his musical roots at? 'As a kid and teen, I listened to A Tribe Called Quest, De La Soul, Pete Rock, J Dilla, The Sound Providers etc. My father plays the trumpet, so he had records with Maynard Ferguson, Willie Mitchell and other artists like that. I feel lucky that I identified with all those particular artists at a young age. A lot of my peers were into the mainstream too, but I was always off doing my own thing. For some reason Hip Hop and Jazz really caught my ear.'
Next to the release of his debut In With Time, Freddie also treats his fans with some free releases. He offered four volumes of 'The Joachim Remixes' for free on his blog. He also released 'Tiger', a collection of instrumentals and next to that he keeps uploading new tracks and remixes on his Myspace. To me, that shows his passion for music. 'I definitely love making music, and I'm surrounded by it almost 24/7. My 9 to 5-job is engineering sound, so at times it can seem a little tedious or monotonous. So sometimes it takes the fun out of music. Luckily, that doesn't occur too often. It's funny, during the week, I wake up, I work with music all day, then when I'm done with my "day job," I work on my music all night. It's a vicious cycle.'
Preview: Son Of Ran – The SO (Freddie Joachim Remix)
Next to producing tracks, engineering sound and DJ'ing, he also plays several percussion instruments, keys, guitar – which he tries to incorporate in his music. 'In With Time' was released earlier this year in Japan, but the US and Europe still have to wait on his album. Freddie's still waiting on a label that wants to release his debut; 'At the moment I'm still waiting on a label, but I don't let it discourage me and I'm not trying to have it be my main focus right now. I just continue making music, hopefully everything will work out. I hope Bad Boy approaches me, so I can do a fresh collabo with Cassie, haha, only joking. On the real, any bigger label that I would feel comfortable releasing music with, and would let me have most, if not all of the creative control'.
Lots of people discuss the state of Hip Hop and its future; Nas claimed that Hip Hop's dead, KRS-One said it lives, but what does Freddie Joachim think? 'I'm the type of person who doesn't have any difficulty adapting with change. I don't really dwell on the past, nor look too forward into the future. I apply that way of thinking with music as well. From the mainstream to the independent scene, I really enjoying Hip Hop being released today. I feel good music is good music, regardless of it's origin. Of course, some artist's messages and lifestyles I don't necessarily agree with, but you can't really hate a 'hustler' rapping about hustlin' or a gangster rapping about gang bangin', haha. Culturally, I feel hip hop has lost a little steam, in a DJ/MC/B-boy/Graffiti sense. But with the internet now, hopefully more kids will be exposed to the elements.'
—
Words by: Danny
More info: Freddie Joachim
Free Download: Getaway EP